Portable 5-10t/h Mini Wash Gold Trommel for Sale
1.The parameter:



Model

KDTJ-10 Gold Trommel

KDTJ-5 Gold Trommel

Machine size(mm)

2900 *1200*1500

2800*1350* 1150

Processing capacity

5-10t/h

1-5t/h

Screen

Screen size (mm)

530(Dia.)*1800(Length)

400(Dia.)*1300(Length)

Mesh

8mm

8mm

Driven type

by belt

by belt

Diesel engine


Portable Diesel Engine
with CE Certificate

Portable Diesel Engine
with CE Certificate



Oil Tank

2.5L

2.5L

Feeder hopper(mm)

1200*810

1066*568

Gold Felt

rough gold felt(mm)

2000*600(1pc)

1500*400(1pc)

fine gold felt(mm)

2000*600(1pc)

1500*400(1pc)

Water pump

2inch with water pipe

2inch with water pipe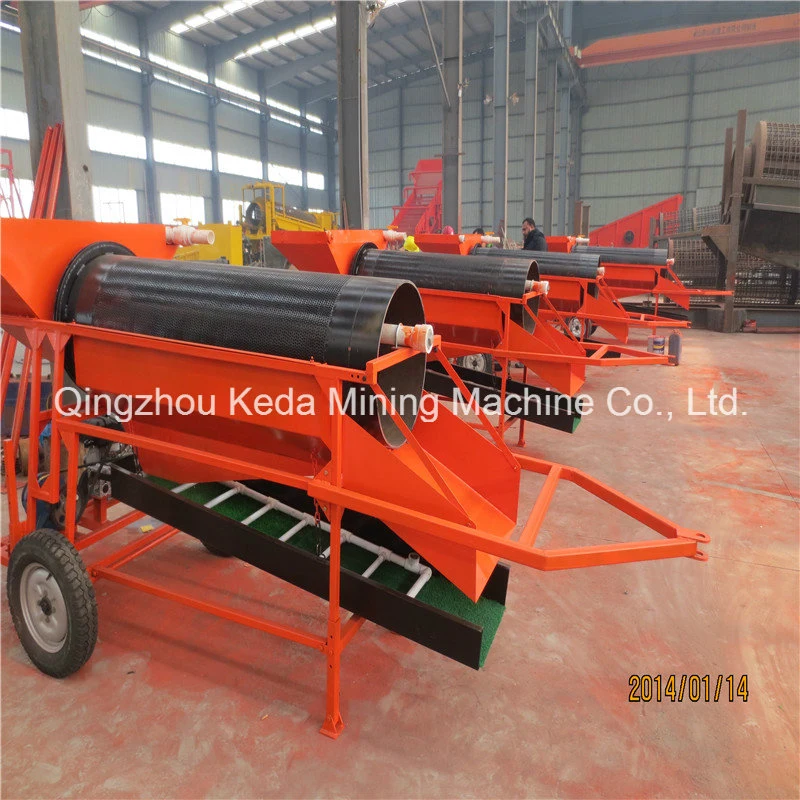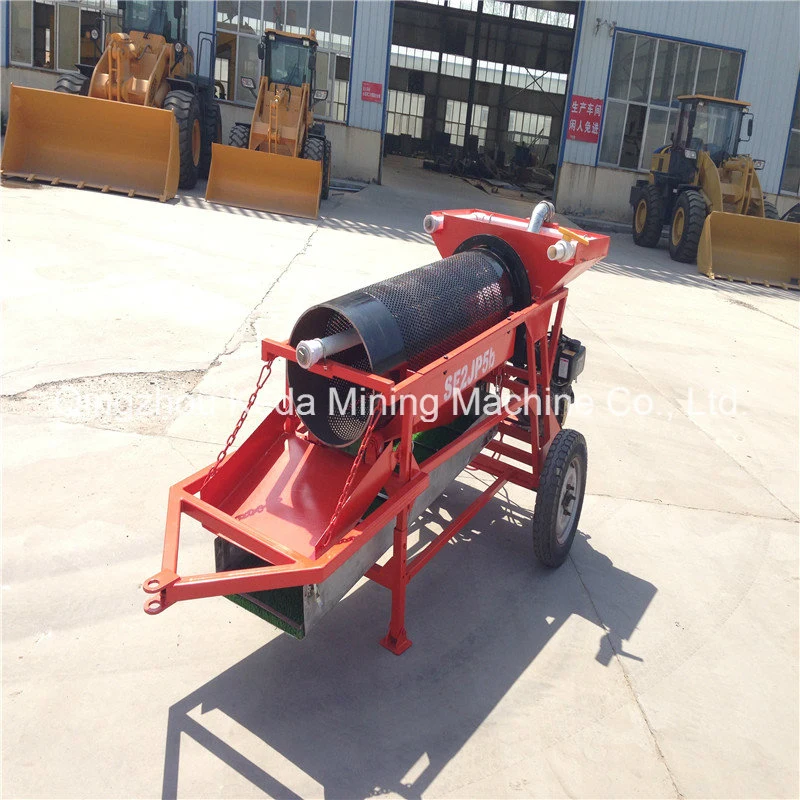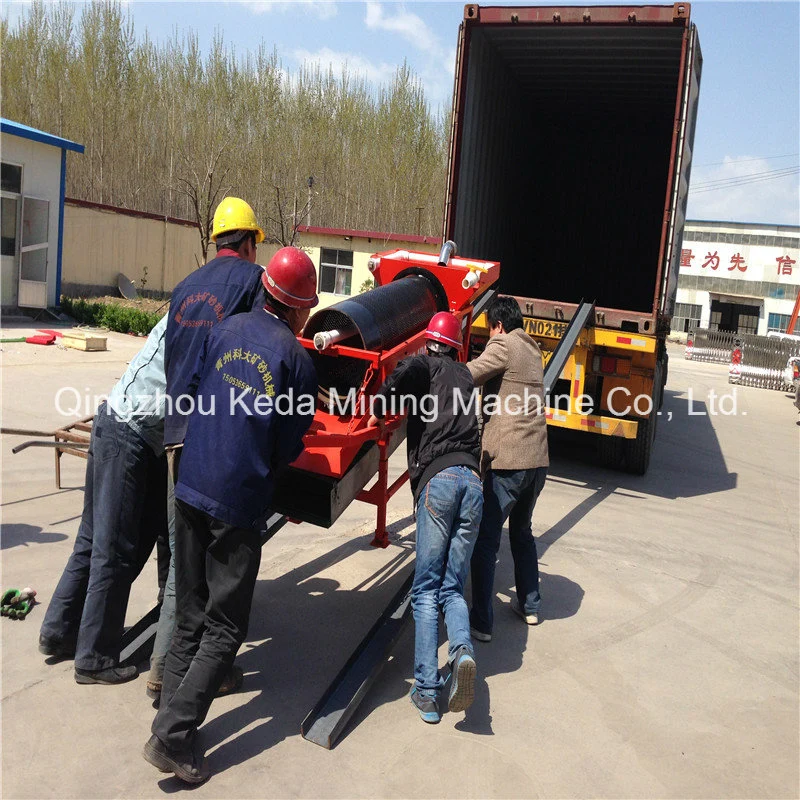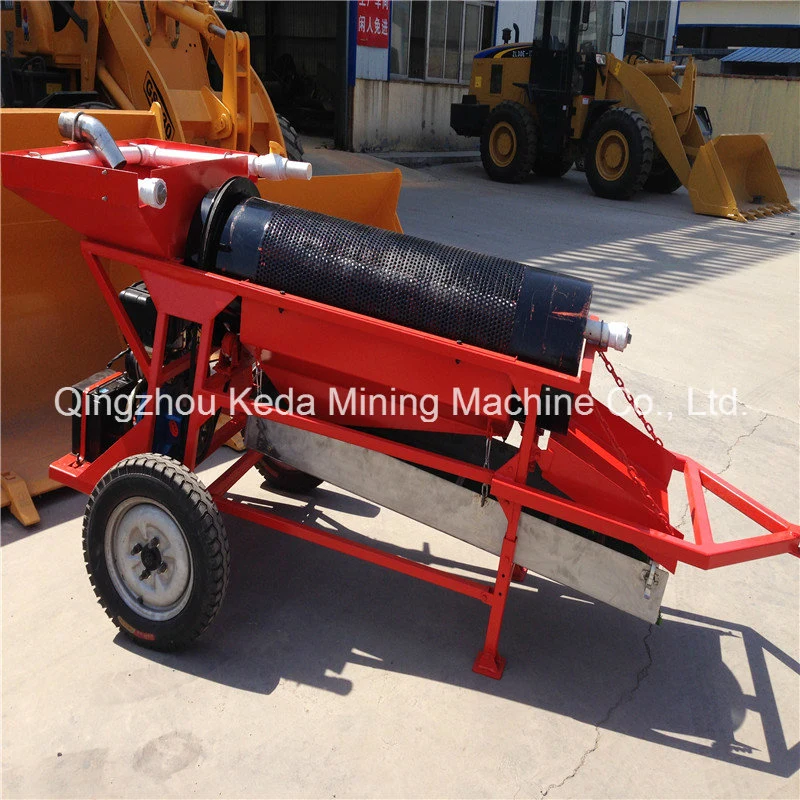 2.Description:
Mobile gold wash plant mobile trommel screen is composed by hopper, trommel, chassis, tires, turntable, generator, water pump, gearing, control panel and gold recovery sluice. The mobile trommel screen is a optimized removable platform for gold recovery, applicable to small or medium scale of placer gold ore processing that need mobile operation. Its advantage: less investment, less labor, fast return of investment, simple operation, mobile etc.

The whole drum adopts strong and reinforced roller support and gear side drive, or chain pulley drive. The screen using high manganese steel woven net , It has large processing capacity, high efficiency , long service life , and easy to replace, no clogging. The chassis using heavy duty beam and equipped with six tires has sturdy construction, high load capacity, moreover the front wheel can achieve 180o turn , flexible move, let the mobile platform can easily cope with all kinds of complicated road. In addition, the chassis equipped with other four mechanical support legs, they can reinforce the bearing capacity of the whole chassis, ensure the equipment run more smoothly , reliable and safe during load running . Generator & motor separated drive, or direct diesel engine drive, low failure rate, easy maintenance. The gold recovery sluice covered by professional gold recovery carpet made of polyethylene non-woven, strong catch ability, high efficiency, it is also effective for fine particle gold

3. River Gold Wash Plant Features
Designed to break up alluvial gravels, clays and sand
High capacity and high power scrubbing
The long drum of the scrubber retains material for longer, more vigorous washing for complete separation
One high output electrical motor driving a gear system providing efficient torque
Adjustable rotary speed
The water with high pressure flushed the inwall of drum
Can accept material up to 230mm
Mechanical sealing of inlet chute - minimal spillage when over feeding
Drive loads absorbed within the drive frame and pivoting drive frame design - Foundations only have to support vertical load and are not critical for alignment ie minimal cost
Shell design less mass than conventional roller supported units - installation craneage requirement reduced
4. Our service:
1)After sales technical support,machine installation,spare part service anticipated training for our customers are provided by our specialist engineers and technicians.
2)Our technical service department is ready to serve and reslove your questions via online support,phone calls or on-sit support.
3)We reckon service insight to increase the levels of challenge with our specialized technical staff.Genial customer relations,technical facilities for intact spare parts deliverised with spare part labor warranty,affordable spare parts and on site service are just a few examples of our professinal custoemer approach.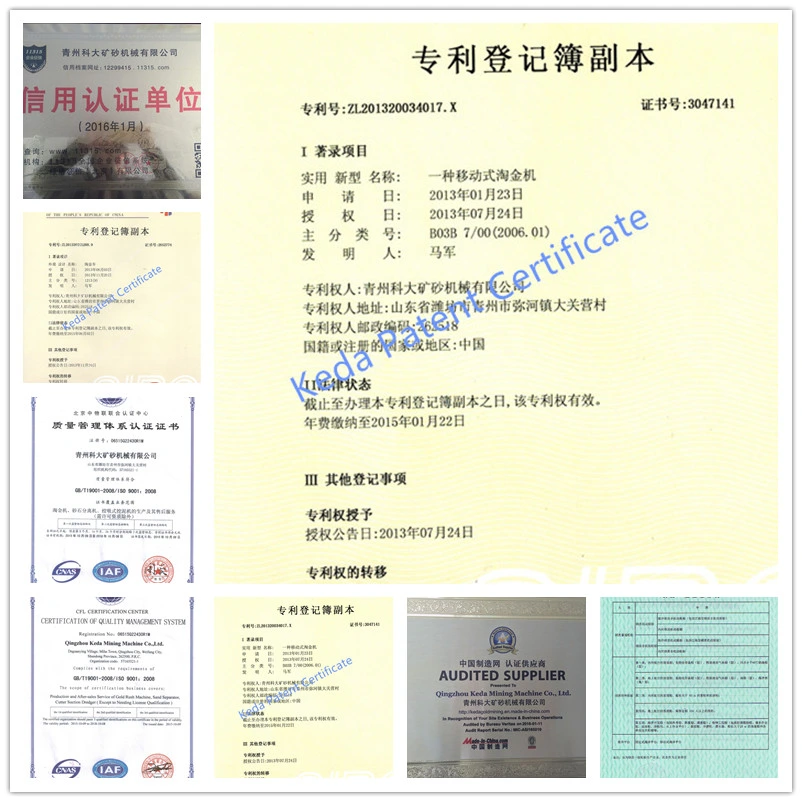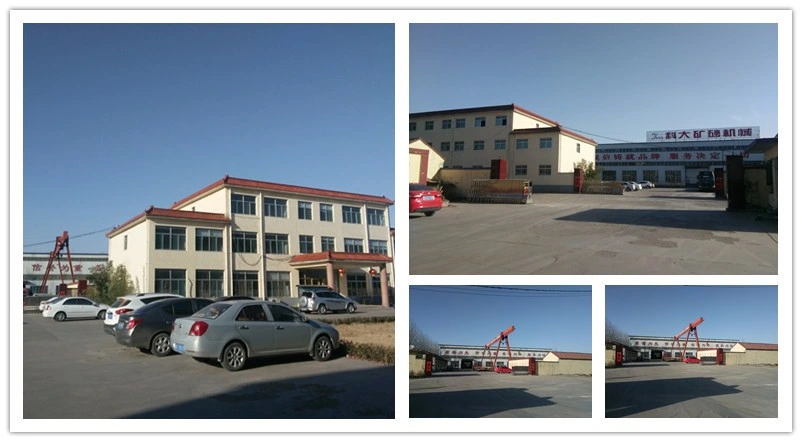 5. Company information:
Qingzhou Keda Mining Machine Co.,Ltd. specialized in dredgers for various industries: Environmental, Sand Production and Mining Machine.

1).Our factory produces a variety of series products , such as : cutter suction dredger, bucket chain dredger, self- propelled dredger, gold panning dredger, iron extracting dredger, sand sieving machines, crusher, gold separator equipment line, and various kinds of machines for mining equipment.

2).We own the professional R&D department , CAD drawing design center , quality control department and Installation & Adjustment to After Service .

3).We can customize special dredging and mining equipment according to different environment and customer requirement which can accomplish the whole set of working procedures of filtering , extracting , separating, washing , classifying and put our qualified products directly. Our experienced engineers will work closely with you to customize a best dredging solution for your particular needs.

4)Now we have developed a dominant role in the dredge manufacturing industry and expand our market to many countries.

6.Contact Information:
Sincerely welcome you to visit our factory. If need more details, please feel free to contact us any time!
Company

Qingzhou Keda Mining Machine Co.,ltd.

C

ontact name

Lily Su

MP

+ 86 13793620699

kedamachinery01

Email